This season is pretty much over but in a couple of ways it has been the most successful season I've had.
My daughter hunted with me last year but we couldn't ever get the right opportunity for her to get anything.
This year it took two days and a lot of walking but she got her first antelope.
One shot at 205 yards and it dropped where it stood. This was on the second day before 8:00am.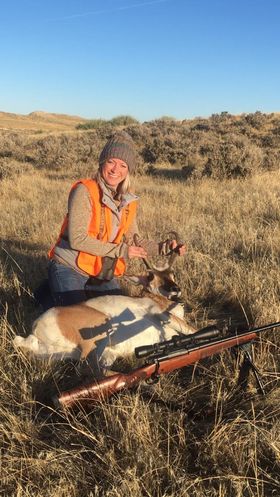 Then a couple weeks later I convinced my daughter to let my Grandaughter skip a day of school so she could go hunting.
My Grandaughter worked really hard and after a few attempts at stalking up to within range it was looking like she wasn't going to get an antelope. She had an "any antelope" tag so we were trying really hard to get her onto a mature buck. That didn't happen.
Late in the day we spotted two does laying down by a stock pond. She decided a doe would be ok since it was getting late and it was the last day we would be able to hunt.
We belly crawled over a small hill to try to get into a position that she could get a shot. By the time we got there they had stood up but didn't know we were there. I ranged the antelope and they were 267 yards.
I asked her if she felt comfortable taking the shot. She said "yeah"
The antelope was standing broadside and she lined up on it. The first shot hit about a foot to the right. I helped her get another round in the chamber and she lined up again. By this time the antelope had moved about 5 steps to the left and stopped almost broadside again.
I thought that in the excitement she probably yanked on the trigger on the first shot so as she lined up the second shot I reminded her to slowly squeeze the trigger.
She shot and the antelope dropped right where it stood.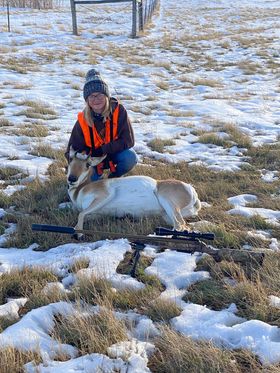 Needless to say I am really proud of both of my girls.
I can't wait until next year.
Wing master