We made 12 sets this weekend.
Day starts out at 3:30, one of the joys of summer in Montana. A 100 mile ish drive and got to see another spectacular sun rise over the brakes.
The wind was almost calm, not as good a thing as one would think. Till it gets around 3 or 4 mph it will be temp and terrain driven. Meaning cool air runs down hill hot air runs up the coulées , yup it swirls all over the place. I was very glad to have my thermicell on too as the bugs where a buzzing.
Set after set no takers getting hotter, but we kept grinding them out. We had a few trash talkers yodel back but nothing in view.
Finlay at mid day we had one come in, but it stop short at around 350 yards and lay down and took a nap !!!!
We could see it plainly in out scopes just laing in the shade of a sagebrush. Nothing I tried made it stand , a few sounds made it lift its Head a time or two but a siesta was on its mind, not a fight. I whispered to my buddy to try to wiggle around and get prone and take a shot.My buddy took a shot and missed , dang it!
We did see a ton of antelope and deer on the trip.
Some of the goats where easily 16" bucks , for this part of the state that is a VERY nice antelope.
White tail and Mule deer in every coulée . One muley running across a wheat field that looked like a caribou!!! . I took a GPS on that one I think it will be my opening day hunt!
Saw this little bugger along the way...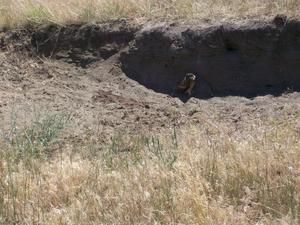 We did get a good sun tan , 95* .


Edited by d4570